No one watched-men. Get it?
Acclaimed "visionary" director Zack Snyder, still reeling from the critical battering he's taken the past few weeks over his "cinematic masterpiece" Watchmen, can't understand why audiences didn't respond to the film.
"I did everything exactly the way it was done in the comic, isn't that what a visionary is supposed to do? I mean, you can take images of the comic, spend millions of dollars and match it up with shots from the film. Isn't taking 2d to 3d visionary. I mean, what the fuck!!!!?????" Despite his film's tragic fall off from the first week's grosses, Snyder found time to announce his next project, an adaptation of Picasso's Guernica, which he promises will be even more faithful to the original than Watchmen.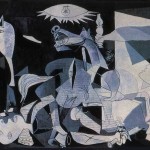 "They want a literal translation, they'll get it. You know how hard it is to make sense of that Dago's madness? He cut his ear off, if I don't get this right, Warners will cut my balls off!!!!"