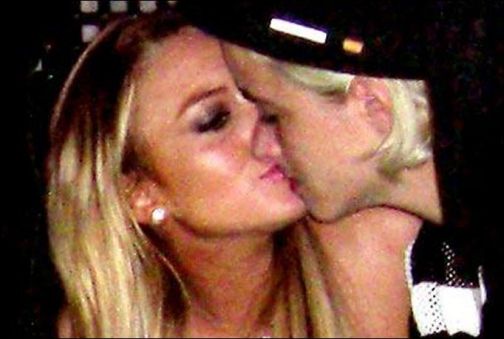 In a bizarre development, all trace of Lindsay Lohan has disappeared from the planet. The precocious child star of the Parent Trap turned adult train wreck has vanished without a trace. Recently distraught over her breakup from lesbian DJ Samantha Ronson, the actress seemed to be on a downward spiral into irrelevance. In an emergency intervention, father Michael Lohan sent a time traveler back to the set of "The Parent Trap" to present young Lindsay with photographic evidence of her future in an effort to convince her to take a different path.
But it appears that tactic has backfired. When the adorable child star was shown a photo of ex-girlfriend Samantha Ronson, the little girl was repulsed. "What is that? A girl or a guy? Either way, I think that's the ugliest person I've ever seen." When told that her future self was in love with the DJ, young Lohan started laughing, unbelieving, "No, no way I become that stupid. There aren't enough drugs in the world to make me do that. You're a silly man. time travel isn't possible anyway." The laughter stopped when the messenger revealed disturbing photos of Lohan's future self after a three day drug binge, stating, "No, there are enough drugs in the world and you've taken them all, Lindsey." When he showed the young Lohan graphic photos of future Lohan and Ronson making out in a club, the innocent little 12 year old started crying uncontrollably.
In a misguided attempt at tough love, the time traveler then told her that unless she changed her ways she would spend at least a year feasting on Ronson's love box, the poor little girl screamed an unholy scream and died from fright, her angelic young face frozen in abject terror. Future Lohan was notified of the developments then spent the rest of her cash on a boatload of cocaine, snorted all of it, and tried to hit the party circuit. After being denied entrance to at least twenty parties, two of them thrown by Ronson, she retreated to her home and was forced to watch helplessly as photos of her became progressively transparent, proving Back to the Future's time travel theory correct, then disappeared completely.
Our only memories of Lohan, consist of videos like this, taken before her disappearance, her inexplicably misguided devotion to a hag like Ronson a warning to all child stars to "Say No to Drugs"