by Rowen Grogen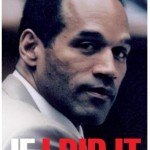 O.J. Simpson, speaking from his Las Vegas prison cell today, said he could finally reveal the identity of the real killer of Ronald Goldman and Nicole Brown. Speaking to a packed assembly of reporters a nervous  Simpson stated "Nicole Brown and Ronald Goldman were in fact killed by a werewolf." He went on to say that the recent book entitled "If I did it." Was originally going to be called "
What If I Told You A Werewolf Did It?
", but that the publishers had refused his pleas.
Simpson stated that the real identity of the killer was covered up back in 1994 by the Beverley Hills Police Department and the Los Angeles District Attorney. "I told them what happened, and they wouldn't believe me." Simpson went on to say that the werewolf may in fact have been a former teammate of his. "I think he played with me on the San Francisco 49ers" Simpson said. "It was speculated in many circles of the NFL that a werewolf had been drafted into the league".
"We always suspected this one guy on our 49ers roster, we noticed that he leave a lot of hair in the drain after a shower, I mean a lot!." Simpson went on to say that when his teammates would show him the horror film "The Howling" he'd breakdown and cry.  Simpson went on to say that the alledged "shape-shifter" developed a long-term grudge against him. "The truth can finally be revealed, I will no longer live in fear!"  stated a defiant Simpson.
When asked how the events had actually unfolded on the night of June 12, 1994 Simpson went on to say the following: "That night I was being followed by a person who I believe to be a former teammate of mine, whilst driving in and around the Brentwood area. I pulled over to the side of the road and mooned him thinking that this may scare him off" Simpson said. "but, this actually enflamed the situation" Simpson claimed, it was at this point the man transformed into a werewolf and chased Simpson the three blocks to the apartment complex where Nicole Brown lived. "I dove into a hedge to conceal myself and managed to avoid reprisals" Simpson said in a quivering voice "but Nicole and Ronald, I'm afraid to say, weren't so lucky.  
This guy just went at them like a rabid animal, like  a madman, tearing the two of them to pieces."
When pressed for reason why it had taken so long for him to reveal this new information Simpson said that upon his arrest, over a decade ago,  he was strongly advised by his legal team not to use the term "Werewolf" as part of his defense . "I have regretted the decision ever since, as there are probably still some people out there that might actually think, I'm the guy! said a remorseful Simpson. "I just hope, that after all these years, they can finally get the person responsible for this atrocity and bring him to justice. No-one should make excuses for this creep, or his affliction, including PETA! What he did was wrong! Plain and simple."
Simpson supplied a police photo sketch of the attacker to the associated press, stating that it had been created back in 1994 by the Beverly Hills Police Department.  Last night they confirm that the alleged assailant was never part of any official police investig
ation.