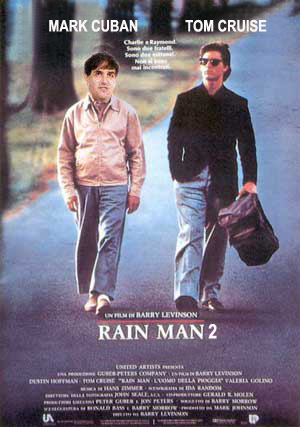 Hollywood can smell franchise-money with Mark Cuban's 2929 Productions snapping up sequel rights to the eighties hit "Rainman". But Dustin Hoffman will not be reprising his role that garnered him an Oscar for Best actor in the 1988 smash hit.     
So, to the surprise of many, Mark Cuban has stepped up to the plate, boldly stating that he will fill the shoes of autistic savant "Raymond 'Rainman' Babbit" made famous by Hoffman.
Tom and I met and spoke about the film last week and the hole left by Hoffman's sudden departure.  After about ten minutes in, Tom suddenly jumped to his feet and shouted out: "Oh my God,  I got it, you should play "Rainman!" "We sat down and watched the original film"  Cuban said "and we were both struck by the startling similarities between myself and Rainman". "Tom said, from what he'd seen, that I was definitely up to the challenge of playing an idiot [Savant].
Skeptical Hollywood pundits have been left scratching their heads at the bizarre move, and Cuban has been copping his fair share of ridicule since making the surprise announcement two days ago. However studio chief, Sumner Redstone, has applauded the daring move. "I think it's a great decision by Mark Cuban. Have you ever seen a side-by-side comparison of the two, they could be twins. Should be a huge success!"  He exclaimed.
Let's hope this box office prediction proves true, or Cuban could wind up in Vegas counting cards like his famous namesake.
SPOT THE DIFFERENCE: CUBAN/RAINMAN