By Peter Boo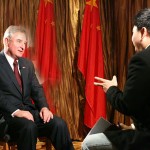 BEIJING — China called for the creation of a new currency to eventually replace the US dollar as the world's standard, proposing a sweeping overhaul of global finance that reflects developing nations' growing unhappiness with the U.S. role in the world economy.
The unusual proposal, made by central bank governor Zhou Xiaochuan in an essay released Monday in Beijing, is part of China's increasingly assertive approach to shaping the global response to the financial crisis.
Peter Boo sat down this past weekend with Zhou Xiaochuan in Beijing for an in depth interview.
BOO: So Mr. Confucius.
ZHOU: Ah, It's ZHOU.
BOO: Bless you.
ZHOU
: No, my name is
Zhou!
BOO: Zoo! Got it! Whatever you want, Zoo . So, why do you hate the United States, Zoo?
ZHOU: We no hate the United States. We think American dollar too powerful, makes the US think too powerful, make dumb decisions, ruin economy. Better for world if more players involved. Divide power. Dumb decisions have less effect.
BOO: Right, but how can the world be sure you'll make better decisions? Let's face it, Chinese checkers never really caught on.
ZHOU: I am not sure what you get at.
BOO: And you never finished that stupid wall, last I saw most of it was lying in ruins.
ZHOU: This is not about Checkers or walls–
BOO: No, it's not. It's about making decisions, complex decisions. Let's face it: our checkers are better, so what makes you think your decisions will be better?
ZHOU: We invented the ancient game of Go, upon which most modern day games are based on.
BOO: Sure, sure, there's a game called Go. Listen, before we let you take a seat at the table, you need to prove you can make decisions. So, what's going to be the emblem on this new currency? Chopsticks, water torture, Chairman Mao..? or let me guess, that PLA tank that almost ran over that lone protestor in Tiananmen Square?
ZHOU: Mr. Boo, we are known for many more things than those. Did you not see our Olympics last year?
BOO: Yeah, I saw it, you let a meat-head stoner win 8 gold medals and let newborns compete in gymnastics. That's just the kind of reckless disregard for the public good that we don't need running a new currency.
ZHOU: I do not think you understand.
BOO
: No, I don't think you understand. It's U-S-A! U-S-A! I don't hear anyone chanting C-H-I-N-A! C-H-I-N-A! do you?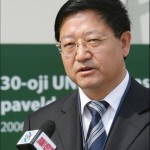 At this point the tape went dead. We are still waiting for Peter Boo to contact us again. At the present moment he is unreachable and currently listed as missing in the Chinese province of Anhui.